It's book release time for My Beloved My Friend: How to be Married to Your Best Friend without Changing Spouses!
An inspiring and insightful new book by a homeschooling family, authors of the acclaimed 'Raising Real Men'. It's about how to build and maintain a strong Christian marriage.
I highly recommend it! For an inside look, read my
review
here.
The Ultimate Classical Homeschooling Giveaway:
Our publishing friends have been amazing and have donated prizes for not one, not two — but three HUGE giveaways! Can you believe that?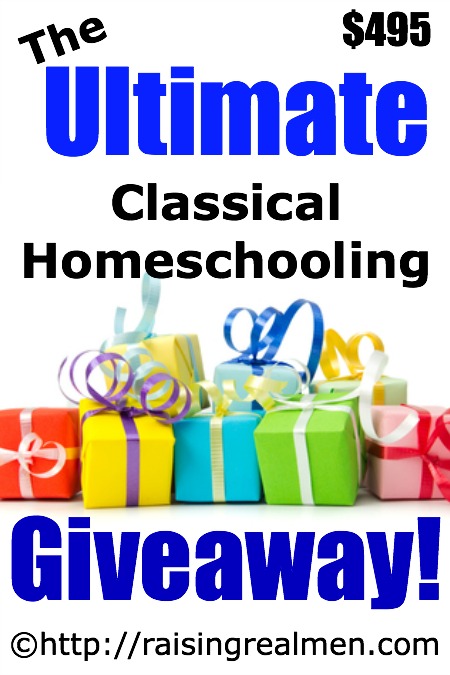 This first giveaway is for over $495 in prizes including:
Mere Christianity Critical Analysis Journal from Home School Adventure Co.
WonderMaps From Bright Ideas Press
Illuminations Year One from Bright Ideas Press
A Young Scholar's Guide to Composers from Bright Ideas Press
Power In Your Hands: Writing Non-Fiction in High School from Writing With Sharon Watson
Writing Fiction in High School from Writing With Sharon Watson
The Fallacy Detective from Christian Logic
The Thinking Toolbox from Christian Logic
A Greek Hupogrammon: A Beginner's Copybook for the Greek Alphabet From Trivium Pursuit
The Home Scholar's Guide to College Admission and Scholarship by Lee Biz from The Home Scholar
Excelerate SPANISH DVD for Lessons 1-6 From Caryn at Excelerate SPANISH
WriteShop Primary (your choice) Teacher's Guide and Activity Book from WriteShop
Mystery of History Audio for Volume 2 by Linda Hobar from The Mystery of History
Isn't that a great list of prizes????